Green Piso's Consumption Cure
---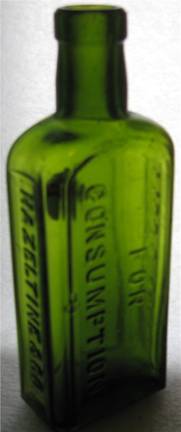 This beautiful cure is 5 ¼" high. It is very near mint with only a few internal haze areas. It is embossed: PISO'S CURE / FOR CONSUMPTION / HAZELTINE & CO on the sides and 12 on the base. It is hand blown with a tooled collar lip dating to approximately the 1890's to early 1900's.
Price: $12.00 plus postage and optional insurance
Terms: Can pay by money order, a personal check is also OK--will ship the item once the check clears. We also accept payments through PAYPAL.COM
There is a 10 day return privilege.
If you would like this item, please contact us at: outpost@goldenpelican.com
Please be sure to include your address so that we can let you know the shipping amount.