Pablo & Co Sodas from New Orleans

---
Sebastian Pablo started his soda & mineral water business in 1849 at No. 70 Elysian Fields until 1855. In 1856 Pablo & Co. was formed at 334-336 Royal St. The street was renumbered in about 1860 to 270-272 Royal St. This accounts for the pontiled and non-pontiled variants at that address. During the Civil War several of the local bottlers such as P.Pons, H. Stewart and T.S. Waterman joined forces with Pablo and then after the war went their seperate ways. In 1877, Pablo combined with several of the other selzer water manufacturers to form the Crescent City Selzer & Mineral Water Manufacfactory (See the CCS&M Co bottles on the website) at the same 270-272 Royal Street address.(Information by Richard Clavin & Joel Ferguson)
Pablo & Co 270-272 Royal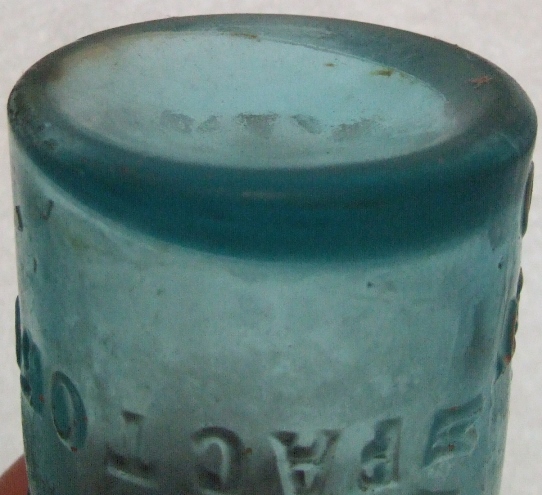 This is the Pablo that was from the early 1860's Civil War period when the streets were renumbered. Embossed: PABLO & CO./270 & 272 ROYAL STREET/N.O., and MINERAL WATER in an arch/FACTORY on the rear. It is 7 1/2" tall. It is in above average shape with no noticeable wear. Some light water haze exists but the glass has no etching. The lettering has been highlighted with white enamel that can be removed with a scrub pad and fingernail polish remover. It will be a near mint bottle with a light tumble cleaning.
Price: 25.00 plus postage
If you are interested in purchasing this or for more information please contact Us
TERMS: There is a 10 day return privilege.
We accept checks, money orders or payments through PayPal.com. The item is shipped when the payment has cleared.
Return to Sodas