Embossed Beers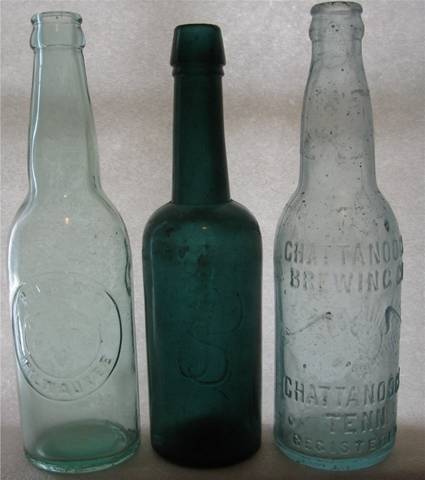 Later embossed beers are produced by an Automatic Bottle Machine (ABM). These bottles are made after around 1910. An example of an ABM bottle is the one on the far left:
1. OLD PABST BEER-This bottle is aqua, ABM, 9 3/8" tall. It is embossed in a circle within an outside ring. The outside ring is embossed PABST / MILAUKEE, inside the ring is a 5 leaf design in the middle (I don't know why). The bottle is near mint, with very little contents haze spots, a few small scratches on the rear, and a cloudy small bubble to the right of the embossing on the mold line that doesn't show when displayed. It has some light vertical whittle marks. This one dates to right before or right after Prohibition.
Early embossed beers are hand-blown into a mold to get the shape and embossing. These bottles date back to the late 1800's to early 1900's. The next two bottles are examples of these:
2. JSP MONOGRAM BEER- This beauty is teal blue, 9" tall, blown, hand tooled collar and ring cork lip. The embossing has intertwined JSP initials and the base has two X's. An area of contents haze is vertically down the front. The outside haze has an area of dullness. All of this can be tumble cleaned. No damage exists. Another unique color for a cylinder type beer. Price: $30.00 plus postage and optional insurance.
3. CHATTANOOGA BEER-Embossed: CHATTANOOGA BREWING CO/ (Sun burst with out-stretched wings FAULTLESS in circle) CHATTANOOGA / TENN./REGISTERED. The reverse reads CB&GM Co 6. This bottle is aqua, 9 3/8" tall, and has a hand tooled crown type lip. There is one partially open bubble on the front above the two O's, also one a little smaller on the rear. The bottle has some light interior haze and the exterior has even dullness with a little case wear around the heal area, all of which could be professionally cleaned leaving it a beautiful, sparkling example.
Price: $25.00 plus postage and optional insurance.
Terms: Can pay by money order, a personal check is also OK--will ship the item once the check clears. We also accept credit card payments through PAYPAL.COM
There is a 10 day return privilege.
If you would like any of these items please contact us at: outpost@goldenpelican.com
Please be sure to include your address so that we can let you know the shipping amount.
Return to Old Bottles for Sale